Let's do a quick roll call of Queenstown adventure firsts, just to get that party started. We're the birthplace of commercial bungy. Home of the world's highest cliff jump, the world's steepest zipline, the world's biggest human catapult, and one of the world's largest giant swings. New Zealand's highest flying fox and highest bungy.
Tandem skydiving and paragliding were pioneered here. The first commercial jetboat rides in the world were right here on the Kawarau River. Queenstown is the birthplace of New Zealand whitewater rafting, New Zealand's first commercial ski resort and the home of the ski-plane.
Here's a bucket list of adrenaline-pumping activities to test your limits in the home of adventure.
NZONE Skydive is New Zealand's first tandem skydive operation
1. Do a Queenstown bungy jump, cliff jump, swing or skydive
To misquote Jane Austen, it is a truth universally acknowledged that when you're in Queenstown you must proceed straight to a very high place and pay a nice, trained professional to throw you off it.
Queenstown has a wide range of vertiginous options for you to get high with. Start with those bucket list bad boys, the bungys, swings and ziplines. If that's not high enough for you, try skydiving from 15,000 feet above the Wakatipu Basin. That should raise your resting heart rate a little.
Whatever you choose for your fix of plummeting towards the earth, make sure you get the proof: photos and video you can share on social media for the world to see.
The Nevis Bungy, New Zealand's highest bungy jump at 143m
2. Go climbing or mountaineering in the Southern Alps
The Queenstown region is a playground of crags and cliffs, and the Remarkables offer a wide range of mountaineering challenges from gentle slopes, to rock and ice climbing. You can also try your hand at abseiling and canyoning, a Via Ferrata course, or warm up on indoor climbing walls.
Make sure you climb safely with our experienced local guides, and choose the right climbing experience for your skill level.
Via Ferrata, climbing above Queenstown
3. Try jet boating and whitewater rafting in Queenstown's wild rivers
For thrills and spills in the water, jump in a jetboat. This is a spectacular way to get up close and personal with the landscape, rocketing up mountain rivers between steep cliffs, and through whitewater rapids.
If riding on the water isn't enough of a buzz, and you want to immerse yourself properly, Queenstown is a whitewater rafting paradise. The Kawarau and the Shotover offer a grade of rapids for everyone, from family friendly grade 2 fun, to gnarly grade 5 rollercoasters.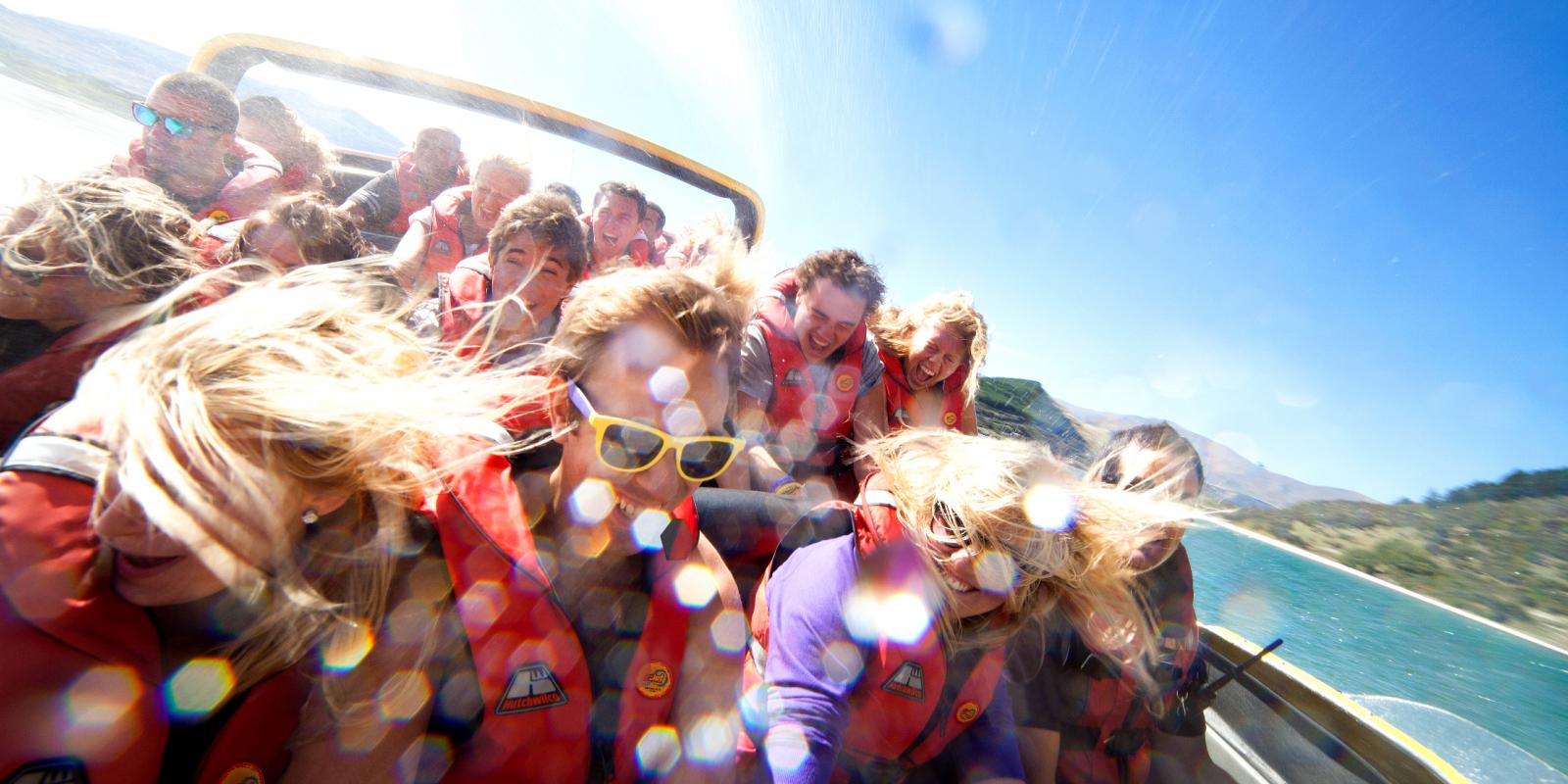 Jet boating with KJet
4. Grow some wings paragliding and hang gliding
If you're more a jump-off-a-mountain kinda guy or gal, paragliding and hang gliding are both epic ways to get your heart pumping and see the Wakatipu from up high. Fly off Coronet Peak or take the experience up a notch with a specially designed tow-plane called a tug which will take your glider as high as you want and release you anywhere. 
And you don't have to leap off a peak to take to the skies. Parasailing on the lake will lift you 600 feet in the air for a speedy adrenaline rush mixed with serene 360-degree views.
Paragliding from Coronet Peak in spring
5. Head off heli-biking or quad biking for the ultimate off-road experience
Get dropped into remote backcountry for a mountain biking experience off the beaten trails. Heli-biking will introduce you to rolling tussock covered ridge lines, steep sheep tracks, and old miners' trails. If you want to stick closer to Queenstown, there's no shortage of downhill gnarl on the mountain bike trails at Queenstown Mountain Bike Park and on Coronet Peak.
For something more high-powered, a quad bike or dirt bike tour will introduce you to some of New Zealand's best off-road riding, with steep hill climbs, rocky gorges, and creek crossings that'll have you begging for more.
Quad Biking with Off Road Adventures
6. Ski or hike the alpine slopes around Queenstown
Queenstown is nestled in the Southern Alps, with mighty mountains and challenging alpine terrain on our doorstep. You don't need fancy gear to get your adrenaline pumping. Hiking to the top of Ben Lomond or tackling one of our iconic peaks like Mount Earnslaw, is all it takes to feel like you're on top of the world.
During the winter, backcountry skiing and snowboarding is the purest adrenaline activity there is. Go on an off piste quest for fresh untouched powder. Or try heli-skiing for the best skiing in the country and a once in a lifetime experience that will make you feel like you're in an action movie.  
Backcountry skiing Queenstown
Go big or go bigger in the home of adventure
We don't just do adventure here. We do adventure bigger and better than anywhere else on this planet. So, if you're an adrenaline seeker, we've got all the thrills, spills, and wild rides that you could ever wish for. Queenstown is one beautiful hardcore natural playground, inviting you to go big or go bigger.
How will you test your limits in Queenstown?